Monday, June 22, 2015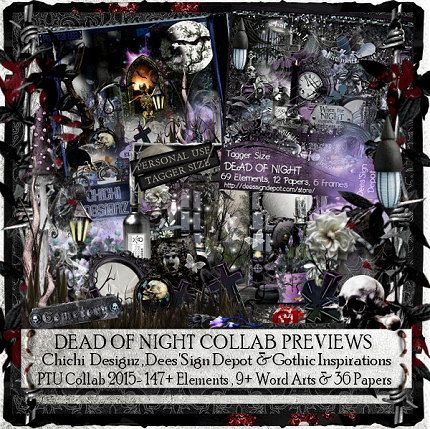 NEW COLLAB with my fabulous girls
Jessica with Gothic Inspirations
Dee with Dees'Sign Depot
and myself
With a massive 147+ Elements, 9+ Word Arts and approximately 36 Papers combined!
This is a huge MUST HAVE Tagger Size Collaboration to get your creativity going!



What happens with friendships unite to create a colossal amount of artistic energy with the same theme? A beyond beautiful collaboration!

With everyone's unique styles coming together for every possible dark, mystical, and vintage creation your imagination can come up with!!

Enjoy our new DEAD OF NIGHT COLLAB
Each of us have our STORES, this creates a really fun environment to visit, bookmark and save your new and old favorite places to visit, stock up on even more scrap goodies.

Each part of our creative collaboration is available at our stores!


Links below!





*LINKS/PREVIEWS ARE SHOW IN ALPHEBETICAL ORDER:





http://chichidesignz.be/store/




http://deessigndepot.com/store/




http://gothicinspirations.com/shop/





My part of the collab,

FTU PU CLUSTERS that match this collaboration on each of our blogs!

My Cluster for you

Tag/Timeline by Jess with my part
Tag By Dee with my part
Tag by myself with my part
Tags made with Dee's part of the collab
By Jessica
By Dee
By myself
Tags made with Jessica's part of the collab
By Dee
By Jess
By myself